Sarzana & Partners file appeal at TAR
An ISP organization has launched a legal challenge against new Italian legislation that authorizes large-scale, preemptive piracy blocking. Fulvio Sarzana, a lawyer representing the Association of Independent Providers, informs TorrentFreak that the measures appear to violate EU provisions on the protection of service providers and the right to mount a defense.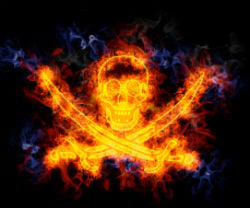 In response to constant claims by Italy's multi-billion euro football and broadcasting sectors, that pirate IPTV services were "killing football" and there was no time to waste, this summer Italian lawmakers delivered.
Mandatory ISP blockades, set to take pirate streams offline within 30 minutes, were just one part of an overall package designed to turn the tables on piracy services and, if necessary, punish the Italian citizens who subscribe to them.
After being passed mid-July, the legislation received telecoms regulator AGCOM's approval just two weeks later. On August 8, 2023, the new law went live.
The new 'Piracy Shield' blocking system did not; according to the authorities, it simply wasn't ready. The system didn't go live in September either and thus far there's been no sign of it in October, or any updates indicating even a tentative launch date.
Follow on TorrentFreak
 Sarzana & Partners, located in downtown Rome, Italy, is a Law Firm providing sophisticated counsel in diverse areas of law. Sarzana & Partners is a boutique law firm representing businesses and individuals in all aspects of criminal, civil and commercial litigation, business transactions and international law. Our clients include domestic and international corporations, financial institutions, private individuals and entrepreneurs, foreign governments and public officials. The law firm has correspondent and co-counsel law offices throughout North America, Europe and the Far and Middle East.
Our legal team can discuss your situation with you and explain how your specific case is likely to proceed so that you know what to expect.
Litigation
The principal goal of our dynamic Litigation Department is to act for our clients in the most effective and efficient manner. Sarzana & Partners represents clients in civil, criminal, administrative litigation at all levels. With strong professional and academic credentials as well as extensive trial experience in all Courts, our attorneys have successfully represented clients in virtually every area of civil, Criminal and Administrative litigation.
Sarzana & Partners file appeal at TAR